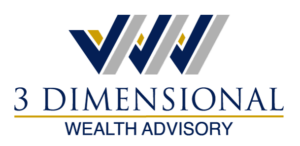 Christopher J. Natale

Partner
Chris began his career in the Personal Financial Services group of Ernst & Young LLP and later joined the Goldman Sachs Family Office.  While at Goldman, he worked with current and former partners of the firm and counseled them on complex tax, estate, and financial planning issues.  Chris then joined AJ Wealth, where he worked with a diverse group of clients on various types of investments and investment strategies.
In March of 2016, Chris transitioned over to 3 Dimensional Wealth Advisory where he is focused on providing clients a high level of service by understanding their current and long-term needs.  In 2018, Chris formed a partnership with fellow advisors Jeffrey Higgs and Doug Halbreiner.  Chris is a Registered Representative with Vanderbilt Securities and is Series 7 & 66 licensed with FINRA.  He also holds Life, Health & Variable Annuity licenses.
Chris earned his Bachelor of Science in Accounting from The John F. Welch College of Business at Sacred Heart University. 
In his spare time, he enjoys golfing and spending time with his wife and 2 kids. In the summer he can be found on the golf course or on his boat Accounted Fore.

Have questions?
We're here to help you.
Connect with a 3D Wealth team member.

© 2021 All Rights Reserved 3 Dimensional Wealth Advisory
3 Dimensional Wealth Advisory and Vanderbilt Financial Group are separate and unaffiliated entities
Vanderbilt Financial Group is the marketing name for Vanderbilt Securities, LLC and its affiliates.
Securities offered through Vanderbilt Securities, LLC. Member FINRA, SIPC. Registered with MSRB.
Clearing agent: Fidelity Clearing & Custody Solutions
Advisory Services offered through Vanderbilt Advisory Services & Consolidated Portfolio Review.
Clearing agents: Fidelity Clearing & Custody Solutions, Charles Schwab & TD Ameritrade
Insurance Services offered through Vanderbilt Insurance and other agencies
Supervising Office: 125 Froehlich Farm Blvd, Woodbury, NY 11797 • 631-845-5100
For additional information on services, disclosures, fees, and conflicts of interest,
please visit www.vanderbiltfg.com/disclosures