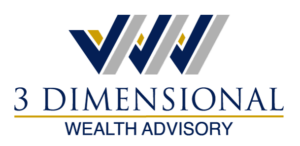 The HHN Legacy Team was initially formed in 2015 in order to begin a smooth transition from Monroe (Roey) Diefendorf to the next generation of advisors. Jeff, Doug, and Chris not only wanted current clients to get their full attention, but they also wanted to provide clients with a wide array of knowledge and specialties. Forming the team allowed them to leverage their individual skills and knowledge to benefit all clients. They are excited to continue to help both clients and their families with all aspects of their financial life.
Have questions?
We're here to help you.
Connect with a 3D Wealth team member.

© 2021 All Rights Reserved 3 Dimensional Wealth Advisory
3 Dimensional Wealth Advisory and Vanderbilt Financial Group are separate and unaffiliated entities
Vanderbilt Financial Group is the marketing name for Vanderbilt Securities, LLC and its affiliates.
Securities offered through Vanderbilt Securities, LLC. Member FINRA, SIPC. Registered with MSRB.
Clearing agent: Fidelity Clearing & Custody Solutions
Advisory Services offered through Vanderbilt Advisory Services & Consolidated Portfolio Review.
Clearing agents: Fidelity Clearing & Custody Solutions, Charles Schwab & TD Ameritrade
Insurance Services offered through Vanderbilt Insurance and other agencies
Supervising Office: 125 Froehlich Farm Blvd, Woodbury, NY 11797 • 631-845-5100
For additional information on services, disclosures, fees, and conflicts of interest,
please visit www.vanderbiltfg.com/disclosures