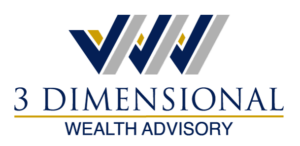 At 3 Dimensional Wealth, your portfolio is developed in partnership with you. We work with you to develop a thorough understanding of your financial plan, risk tolerance, and overall investment experience before making any investment recommendations. After our recommendations are reviewed, we make sure that you have a full understanding of how we are investing your money and why we recommend those investment strategies. As market conditions and the portfolio change, so do our investment recommendations. Our investment team is constantly reviewing all types of investment vehicles to identify those that are most appropriate for you. Rebalancing is done strategically to take advantage of changes in market conditions, stock prices, and your specific tax situation. Our ultimate goal is a well, diversified portfolio that will help you obtain your long term or short term investment objectives.
As Registered Investment Advisors, at 3 Dimensional Wealth Advisory, we can offer a diversified choice of investment alternatives, including:
• A variety of over 5,000 Mutual Funds, 2,000 Exchange Traded Funds (ETFs) 
• A variety of Structured Products including Buffered Notes to meet our client's investment objectives
Have questions?
We're here to help you.
Connect with a 3D Wealth team member.

© 2021 All Rights Reserved 3 Dimensional Wealth Advisory
3 Dimensional Wealth Advisory and Vanderbilt Financial Group are separate and unaffiliated entities
Vanderbilt Financial Group is the marketing name for Vanderbilt Securities, LLC and its affiliates.
Securities offered through Vanderbilt Securities, LLC. Member FINRA, SIPC. Registered with MSRB.
Clearing agent: Fidelity Clearing & Custody Solutions
Advisory Services offered through Vanderbilt Advisory Services & Consolidated Portfolio Review.
Clearing agents: Fidelity Clearing & Custody Solutions, Charles Schwab & TD Ameritrade
Insurance Services offered through Vanderbilt Insurance and other agencies
Supervising Office: 125 Froehlich Farm Blvd, Woodbury, NY 11797 • 631-845-5100
For additional information on services, disclosures, fees, and conflicts of interest,
please visit www.vanderbiltfg.com/disclosures