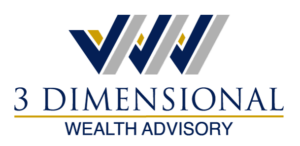 Wealth management is about more than money management. Financial, personal, and social wealth comprise one's total wealth. Preserving and protecting each dimension becomes an important part of the total wealth management process. At 3 Dimensional Wealth Advisory we have a rich history in taking an all-encompassing perspective on total wealth management. The wealth management services we offer include: Asset Management, Employee Benefits, 401K, Insurance, Fee-Based Financial Planning, Multi-Generation Family Planning, Retirement Planning, Tax Planning, Trust Planning. 
Financial planning can be a complex and confusing subject for many. Our goal at 3 Dimensional Wealth is to help simplify and educate our clients to better understand their entire financial picture. We take the mystery out of investing, managing risk, retirement planning, and preserving wealth for future generations. We believe people are seeking to have an advisory team with wisdom to provide a thorough analysis of their situation. The relationship with our clients is ultimately more important than any process we employ to help preserve and grow your wealth. We strive to establish long and trusted relationships with our clients from generation to generation.

The information on products and services presented on this website are offered to individuals residing in jurisdictions where 3 Dimensional Wealth Advisory, and its registered representatives are securities registered and insurance licensed and appointed or found to be exempt from such requirements. Currently these products and services are available to all jurisdictions within the US. Information contained on this site is not intended to constitute an advertisement, solicitation, or offer for sale in any jurisdiction outside of the US where such use would be prohibited or otherwise regulated. Any material included in this website is not intended to serve as legal, tax, accounting, or other professional advice. You should consult with an attorney, accountant, or other professional advisor experienced in the areas discussed or addressed by these materials before taking any action.
Have questions?
We're here to help you.
Connect with a 3D Wealth team member.

© 2021 All Rights Reserved 3 Dimensional Wealth Advisory
3 Dimensional Wealth Advisory and Vanderbilt Financial Group are separate and unaffiliated entities
Vanderbilt Financial Group is the marketing name for Vanderbilt Securities, LLC and its affiliates.
Securities offered through Vanderbilt Securities, LLC. Member FINRA, SIPC. Registered with MSRB.
Clearing agent: Fidelity Clearing & Custody Solutions
Advisory Services offered through Vanderbilt Advisory Services & Consolidated Portfolio Review.
Clearing agents: Fidelity Clearing & Custody Solutions, Charles Schwab & TD Ameritrade
Insurance Services offered through Vanderbilt Insurance and other agencies
Supervising Office: 125 Froehlich Farm Blvd, Woodbury, NY 11797 • 631-845-5100
For additional information on services, disclosures, fees, and conflicts of interest,
please visit www.vanderbiltfg.com/disclosures